GOLF WORLD MOURNS THE DEATH OF
HAWKS RIDGE ARCHITECT CUPP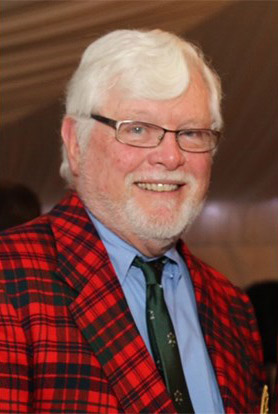 The golf world was saddened on Aug. 19 with the death of golf course architect Bob Cupp of Atlanta, from pancreatic cancer.
Mr. Cupp, 76, listed Hawks Ridge as one of his greatest achievements, completing the project with Joe Jillson and Mike Nixon in 1999.
He was a former president of the American Society of Golf Course Architects (2012-13) and served as Jack Nicklaus' senior designer before starting his own Atlanta-based firm in 1986.
Mr. Cupp is survived by his wife, Pamela Amy-Cupp, five children and seven grandchildren. Arrangements are pending, including a memorial service in September.
Hawks Ridge Golf Club…A Pure Golf Experience
At the cornerstone of this enclave north of Atlanta lies an 18-hole championship golf course designed by Bob Cupp that's as beautiful as it is challenging. For true golf enthusiasts who long to be reacquainted with an era revered for its grace and sophistication, Hawks Ridge Golf Club is unmatched in its ability to unite Old World elegance with present-day luxury.
This impeccable estate community, established in 1999, is unlike any other. One of the last bastions for seclusion, privacy and relaxation, Hawks Ridge is a virtual paradise that leaves a fast-paced world behind by simply driving through the private gate.
The vision of owners Joe Jillson and Mike Nixon was to create an exceptional golf community that calls to mind the legendary courses and lavish estates of the past, inspired by the classic architecture of the 1920's and 30's.
The centerpiece is a pristine golf course where tee times are unnecessary, where caddies enhance the daily experience and where a golf purist can appreciate the game the way it used to be.
"After finding Hawks Ridge," says Hall of Fame Atlanta Braves pitcher John Smoltz, "there's no other place for me."
Named to Golf Digest's Top 100 in its first year of eligibility, Hawks Ridge is a regular site for U.S. Open Sectional Qualifying.
Hawks Ridge features on-property cottages for its guests, world-class dining, Helipad, walking-only Executive Par-3 Course, and Golf Training Center with hitting bays and full short-game practice area.
Hawks Ridge Golf Club…..A pure golf experience!


Check out The Skechers Commercials filmed at Hawks Ridge!
Commercial #1, Commercial #2, Commercial #3, Commercial #4, Commercial #5