Executive Par 3 Course
Hawks Ridge Golf Club's unique and picturesque Executive Par-3 Course offers fun and challenging holes ranging in distances from 69 yards all the way up to 133 yards.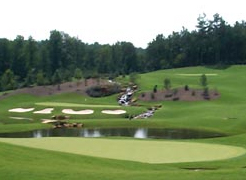 An excellent way for any player to improve on his or her short game and scoring irons, the short course is also a fun and friendly way to introduce any beginner to the game.
Conditions are immaculate. The greens run consistent with the pace of those on the Championship Course, and the attention to detail on aesthetics and landscaping is second to none.
Please note that the short course is walking only. So grab a handful of clubs, a few golf balls and enjoy a walk on one of the most beautiful amenities that Hawks Ridge Golf Club has to offer.